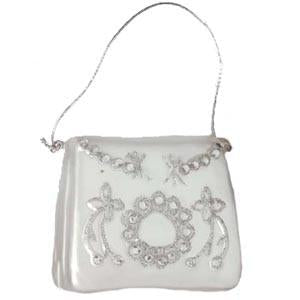 Party Purse Christmas Ornament Santa Klaus and Co.
Party Purse
804006
Christmas Ornament from Santa Klaus & Co., a division of Inge-Glas of Germany.
3"Silvery white ornament with silver details and decorated with "jewels."
*This ornament does not come in a box
Please note that hooks for hanging cord on the ornament are also mouth-blown, so there is an opening or "hole" left in the corner of each ornament where the ornament was mouth blown.
Great keepsake for little girls or party favors for princess and dress up parties!
Ornament not produced in Germany.
This ornament is retired - only a few left!