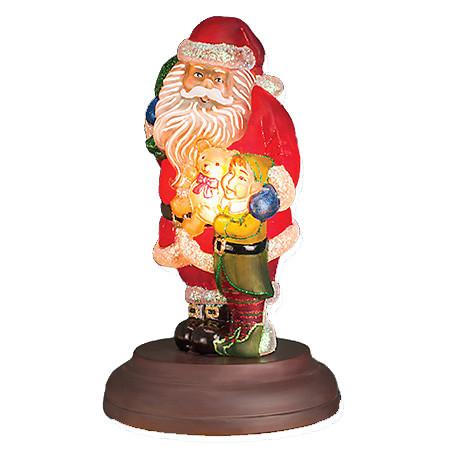 Santa's Bright Eyed Buddy 529771 Old World Christmas 2015 Annual Light
SKU
529771-santas-bright-eyed-buddy
Santa's Bright Eyed Buddy Annual Christmas Light
Introduced 2015
529771 Old World Christmas
Size: 10.5
Electrical light on wooden base (cord with Christmas light bulb is inserted from the bottom into the light, cord exits back of base and not shown in photo)
Whimsical Santa and his elf buddy holding a teddy bear. Makes a cherished gift.
Old World Christmas proudly presents it's thirty-first annual edition in a series of Santa Light. Each new addition to the collection is a charming and unique character fashioned after the Santas that we have come to know and love.
This intricately detailed, limited edition light features Santa Claus with his eager bright-eyed elf, as they get ready to light up smiles all around the globe! Trimmed with brilliantly shimmering iridescent glitters that sparkle in the light's soft glow and radiating the beauty and joy of Christmas in any room. The Santa's Bright-eyed Buddy Light is the embodiment of the Christmas spirit.
This finely crafted, mouth-blown, and hand-painted glass figure literally lights up your holidays! Complete with wood base and U.L. approved light, the 2015 Santa's Bright-eyed Buddy light stands 10.5" tall.
Bring Christmas to light for you and your family. Start your collection today and enjoy the magical glow of an old-fashioned holiday with Old World Christmas.