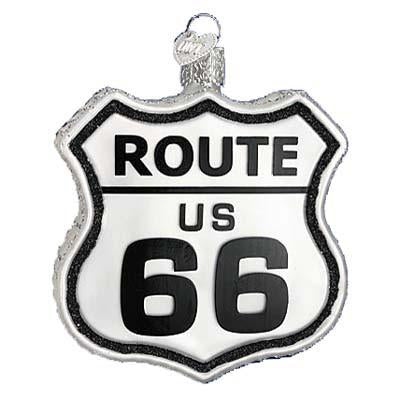 Historic Route 66 Road Sign Old World Christmas Ornament 36136
SKU
36136-historic-route-sign
Historic Route Sign Christmas Ornament
36136 Old World Christmas
Measures approximately 3 1/2"
Introduced 2011
Includes Free Gift Box (may be plain box)
Made of mouth-blown, hand-painted glass. Historic Route 66 Road Sign, white with black lettering and silver glitter details. Lettering is on the front and back of the ornament.
Established in 1926, Route 66 was one of the original U. S. highways. It's 2,400-mile route from Chicago to Los Angeles travels through some of the most celebrated portions of the American West. It became known as the "Main Street of America." It symbolizes American's love of the automobile and wide-open spaces.
Wikipedia:
Route 66 is an American TV series in which two young men traveled across America. The show ran weekly on CBS from 1960 to 1964. It starred Martin Milner as Tod Stiles and, for two and a half seasons, George Maharis as Buz Murdock. Maharis was ill for much of the third season, during which time Tod was shown traveling on his own. Tod met Lincoln Case, played by Glenn Corbett, late in the third season, and traveled with him until the end of the fourth and final season.
The series is best remembered for its Corvette convertible and its instrumental theme song (composed and performed by Nelson Riddle), which became a major pop hit.