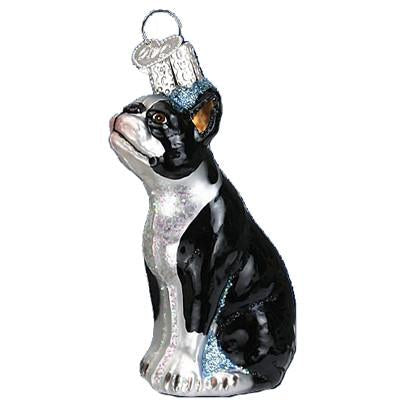 Boston Terrier Dog 12290 Old World Christmas Ornament
Boston Terrier Christmas Ornament
12290 Old World Christmas
Introduced 2011
Includes Free Gift Box (may be plain box)
Made of mouth blown, hand painted glass. Measures approximately 3 1/2"
Boston Terriers were originally developed in the 19th century to be companion and ratting dogs. They make wonderful family pets since they are easy to care for, small in size and intelligent. Enthusiastic, alert and loving, they are also gentle and well-mannered.
Black and white dog Christmas ornament. According to Wikipedia: Boston Terriers are typically small, compactly built, well proportioned dogs with erect ears, short tails, and a short muzzle that should be free of wrinkles. They usually have a square sort of face. The smooth coats of the Boston Terriers are mainly brindle, seal or black with even white markings. Having been bred as a companion dog, they enjoy being around people, and, if properly socialized, get along well with children, the elderly, other canines, and non-canine pets. Some Boston Terriers are very cuddly, while others are more independent.