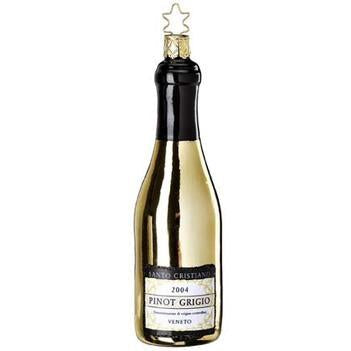 Pinot Grigio Bottle of Wine Christmas Ornament Inge-Glas of Germany 1-156-09
SKU
1-156-09-pinot-grigio
Pinot Grigio Bottle of Wine Christmas Ornament
1-156-09 Inge-Glas of Germany
Introduced 2009 from the "Gourmet Christmas" Collection
Measures approximately 5 1/4", made of European mouth blown, hand painted glass. Paper label.

Free plain gift box
All Inge-Glas ornaments are mouth blown and handpainted in workshops in Germany, following the centuries-old-tradition. Inge-Glas offers superior Germany quality and true Heirloom treasures.
Pinot Grigio: A mutation of Pinot Noir, which it resembles in the field, Pinot Grigio is the Italian white wine most recognized by American wine consumers. It is most prominent in Alto-Adige, Veneto and especially Friuli, where the finest examples are made in the Collio area. Italians pick the fruit early as it has a tendency to drop acidity when it ripens fully.