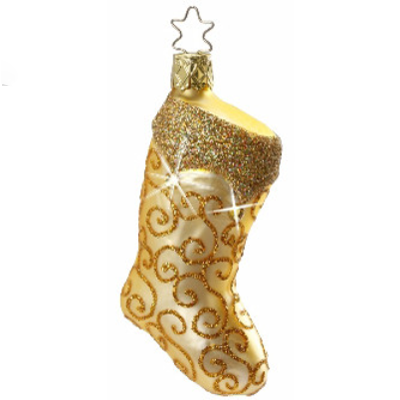 Making Memories Christmas Stocking Christmas Ornament 1-052-11
SKU
1-052-11-making-memories-gold
Making Memories Christmas Stocking Christmas Ornament - Assorted

Priced individually, choose color
1-052-11 Inge-Glas of Germany
Introduced 2011
Includes free plain white gift box.
Making Memories is a Christmas stocking shaped ornament in assorted colors studded with Swarovski Elements. Stocking is glittered with a scroll design and gold glittered top. Priced individually, choose from green, red or gold. 
Measures approximately 4"
Inge-Glas has created a series of exclusive ornaments, which shine with multi-faceted crystals on the Christmas tree. These extraordinary pieces fascinate through the incomparable play of light and color. All of the ornaments in this collection are mouth-blown in the Inge-Glas workshop in Germany, using old tradition and handicraft and carefully hand painted with much detail. They are decorated with sparkling Swarvoski Elements, which intensify in the twinkling Christmas lights.
All of the ornaments have gold glittering on the cuff; the green has red "jewels", green glittering; the gold has gold "jewels" and gold glitters; the red has green "jewels" and red glittering. Each ornament has 4 "jewels."
Sold out of red.