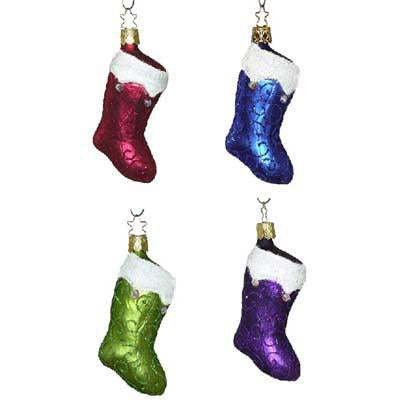 Fireplace Jewels Christmas Stocking Ornament Inge-Glas 1-045-11
SKU
1-045-11-fireplace-jewels-asst-blue
Fireplace Jewels Christmas Stocking Christmas Ornament - Assorted

Priced individually, choose color (red is sold out)

1-045-11 Inge-Glas of Germany
Introduced 2011
Free plain white gift box.

Fireplace Jewels is a Christmas stocking shaped ornament in assorted colors studded with Swarovski Elements. Stocking is glittered with a scroll design and white glittered top. Priced individually, choose from purple, green, red (red is a rosy or magenta red) or blue.  Measures approximately 4"
Information on the hang tag: Inge-Glas has created a series of exclusive ornaments, which shine with multi-faceted crystals on the Christmas tree. These extraordinary pieces fascinate through the incomparable play of light and color. All of the ornaments in this collection are mouth-blown in the Inge-Glas workshop in Germany, using old tradition and handicraft and carefully hand painted with much detail. They are decorated with sparkling Swarvoski Elements, which intensify in the twinkling Christmas lights.