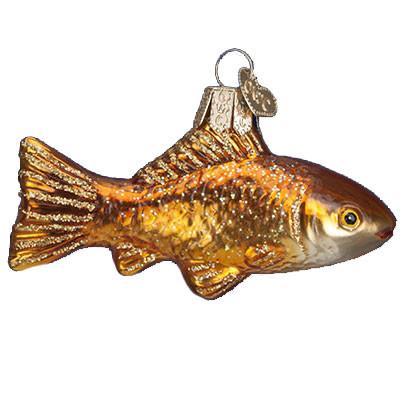 Goldfish 12398 Old World Christmas Ornament
Goldfish Christmas Ornament
Size: 3.5"
Old World Christmas - 12398
Includes Free Gift Box (may be plain box)
Hang Tag: Fish are a common thread connecting numerous stories in the Bible, and today their symbol focuses on the religious origins of Christmas. Fish signify Christ s miracles and, like Christ, provide nourishment and sustain life. Fish represent the messages of the Christmas season renewal of life, rejuvenation, and love.
Each figural glass ornament produced for The Merck Family's Old World Christmas is hand crafted in age-old tradition using the same techniques that originated in the 1800's. Molten glass is mouth-blown into finely carved molds available only to the Merck Family's Old World Christmas, before a hot solution of liquid silver is poured inside. The ornaments are then hand-painted and glittered in a series of labor-intensive steps to achieve the beautiful creations