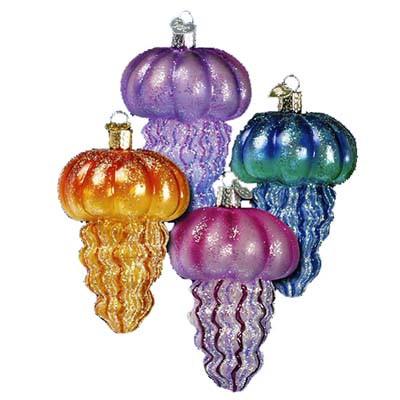 Jellyfish 12147 Old World Christmas Ornament
SKU
12147-jelly-fish-asst-no-choice
Jellyfish Christmas Ornament, Assorted
Priced individually. Some colors sold out. Ornament available will be shipped.
12147
4"
*Free gift box, may be white

Mouth-blown, hand-painted, glass Christmas ornament from Old World Christmas.
Choose color from the drop-down box: reddish gold, purple, blue/green or pinkish purple
Jellyfish or Sea Jellies, are graceful, semi-transparent sea creatures known for their brilliant colors. Their bodies are made of 95% water and range in size from 1 inch to 15 feet. Over 200 varieties or jellyfish drift with the water currents and are found in seas all over the world.
**OUT OF PINKISH AND BLUISH**