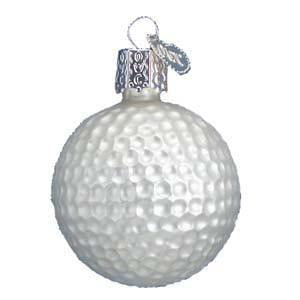 Golf Ball 44014 Old World Christmas Ornament
Golf Ball Christmas Ornament
44014 Old World Christmas
Ornament measures approximately 1 3/4 inches.
Mouth-blown glass ornament created by master craftsmen.
Trademark metal heart-shaped Old World Christmas Tag.
Great addition for your golfer in the family!
Free gift box included. (may be plain box)
Golf, as we know it, was first played with a leather-covered ball stuffed with goose feathers. In the early 1900s the golf ball evolved into the form as we know it today. However, it was not until 1932that the golf ball was standardized to weigh a maximum of 1.62 ounces and possesses a diameter of not less than 1.68 inches.