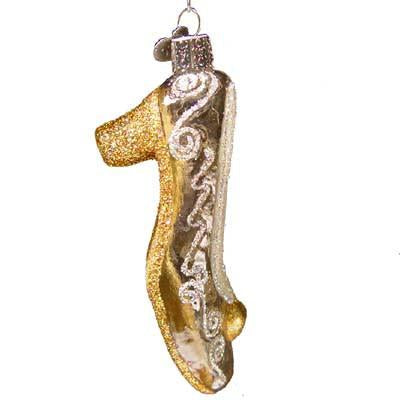 Glass Slipper Ornament 32098 Old World Christmas
Glass Slipper Christmas Ornament
32098 Old World Christmas.
This ornament is retired.
Free Gift Box Included (may be plain box)
Glass Slipper ornament is 4 1/2" in length. It is transparent with gold and silver glittering.
Perfect "Cinderella Style" slipper that will make your little Princess happy!
Written down by the Grimm Brothers in 1812, the story of Cinderella has delighted children for generations. Cinderella''s glass slipper reminds us of the value of perseverance and hope for the future. It represents the power of dreams and true love.
This beautiful Glass Slipper ornament was carefully mouth-blown into a finely crafted mold. Then a hot solution of liquid silver was poured inside. Finally, it was delicately hand-painted and glittered for you to enjoy and cherish as a holiday heirloom!