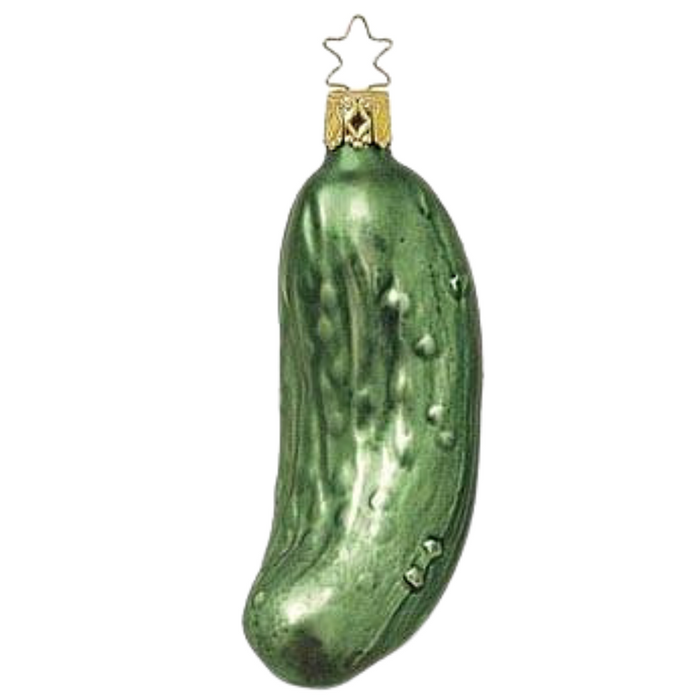 The Legendary Pickle Christmas Ornament Inge-Glas of Germany 1-617-01
SKU
1-617-01-legendary-pickle
The Legendary Pickle Christmas Ornament
1-617-01 Inge-Glas of Germany
Green pickle ornament measures approximately 4 1/2".
Handmade in Germany. Mouth blown, hand painted.
Free plain gift box

Inge-Glas Legend of the Pickle: Long ago in Germany, the famous pickle legend came to be, a fun game for the entire family. No one knows who, what or why, but it's a Christmas tradition to be enjoyed even by the most shy.
Hidden in the branches of every Christmas tree, children of all ages hunt for the pickle in green. The younger the child the bigger the pickle is, as we grow, the pickle size gets smaller and presents big challenges.
Hunt for it, search for it, but your hands must be behind, and do not touch the tree, or you'll lose the prize in mind. If you find that hidden gurken, you are the lucky one indeed, as there's a special present waiting for you, the winner of the green.
If you were not the lucky winner, do not shed a tear, as the search for the hidden green pickle, comes once again next year!