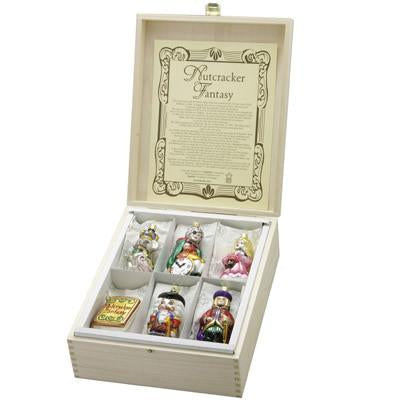 Nutcracker Fantasy Keepsake Box Ornaments Inge-Glas 1-321-06
SKU
1-321-06-nutcracker-fantasy
Nutcracker Fantasy Keepsake Wooden Box of 6 Collectible Christmas Ornaments from the Nutcracker Suite
Inge-Glas of Germany
1-321-06
The Nutcracker 4 /12"
Nutcracker Fantasy Book 3 3/4"
Mouse King 4"
Clara 4 1/4"
The Prince 5"
Herr Drosselmeier 4 3/4"
"The Nutcracker and the Mouse King" play was created by the German writer. E. T. A. Hoffman in 1816. A magical story about a young girl, Marie, who was given a nutcracker doll from her godfather, Herr Drosselmeier. The play was adapted in 1845 by the French novelist Alexandre Dumas, who changed the play to be more suitable for children. At this point, Marie''s name was changed to Clara. In 1891, this version was chosen by the senior ballet master of the Russian Imperial Ballet, who then commissioned Piotry Ilyich Tchaikovsky to compose a score for the nutcracker production.
The ballet opened in St. Petersburg, Russia, on December 17, 1892, "The Nutcracker", a holiday fairy tale about a girl named Clara and her nutcracker doll....and so the story goes.....
At a family Christmas gathering, Clara was given a special nutcracker for Christmas from her godfather, Herr Drosselmeier, who she adored, After the evening''s festivities were done and everyone was off to bed, Clara went back downstairs to dance with her new toy. Clara eventually falls asleep and her dream begins....
Herr Drosselmeier, the Mouse King, the Nutcracker, her Prince, Sugarplum Fairies, and Waltzing Flowers taking her into the Land of Sweets. She awakens the next morning with her nutcracker and memories of her fantasy adventure.
It was not until 1940 that the ballet debuted in the United States. In 1954 George Balanchine is credited with creating the most successful ballet version of the "Nutcracker." The "Nutcracker" ballet is probably the world''s most favorite ballet, seen by millions, especially during the holiday season.
Inge-Glas of Germany presents the "Nutcracker Fantasy" wooden gift box set of the six favorite fairy tale characters. All mouth blown and hand painted German ornaments with the trademark Five-Point Star Crown, your symbol of quality and German heritage.