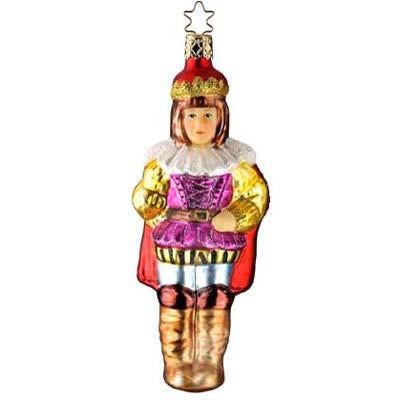 Prince Charming Christmas Ornament Inge-Glas of Germany 1-154-09
SKU
1-154-09-prince-charming
Prince Charming
1-154-09 - Inge-Glas of Germany *Introduced 2009*
Cinderella's Prince Charming! Gallant and handsome, this ornament measures approximately 5 1/4".  This heirloom Christmas ornament is from the "Fairy Tales" collection from Inge-Glas.
This ornament was created using the new "Life Touch"  Life Touch is introduced by Inge-Glas, an amazing development adding to their colorful 400 year family history of German glass blowers; a classy new and innovative painting technique known as "Life Touch." With precise and meticulous detail, skillfully trained Inge-Glas master artists apply ultra fine feather strokes revealing delicate life touches to enhance their uniquely beautiful Christmas ornaments.
Ornament is packaged in a royal blue Inge-Glas gift box.