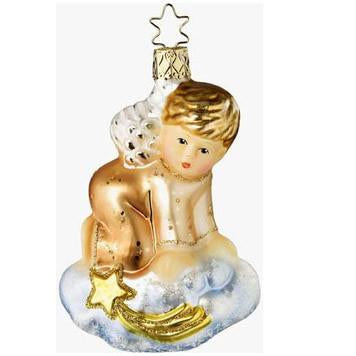 Limited Edition On Heaven's Cloud Inge-Glas Christmas Ornament 1-083-09
SKU
1-083-09-on-heavens-cloud
On Heaven's Cloud - Limited Edition
1-083-09 Inge-Glas of Germany
Mouth blown, hand painted European glass Christmas ornament
Measures approximately 4"
Annual Limited Edition Collection
Little boy on a cloud.
This ornament was created using the new "Life Touch"  Life Touch is introduced by Inge-Glas, an amazing development adding to their colorful 400 year family history of German glass blowers; a classy new and innovative painting technique known as "Life Touch." With precise and meticulous detail, skillfully trained Inge-Glas master artists apply ultra fine feather strokes revealing delicate life touches to enhance their uniquely beautiful Christmas ornaments.
Ornaments for the Limited Edition collection are carefully chosen from the most unique designs and moulds. Whether they are selected from a new creation or an antique mould, Birgit Muller-BLech, designer for Inge-Glas brings new ornaments to life with creativity and design. Hand numbered, each limited edition ornament showcases the very best of Inge-Glas. This ornament has a distinctive Inge-Glas gift tag and is gift boxed.